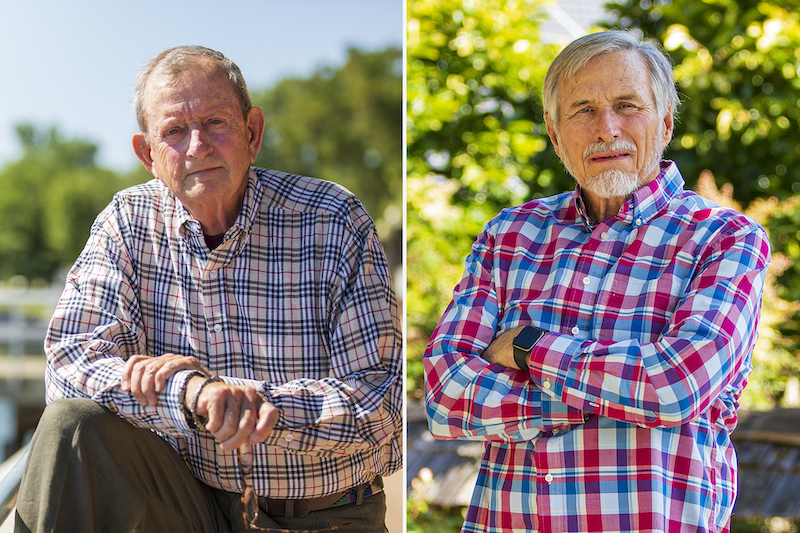 Neal Roberts and Hal Nathan, Ph.D., have been friends since 1964, when they first ran into each other in the dorms at the University of California, Santa Barbara. Since then, they've grown their businesses, traveled together, and joined forces to donate to important causes.
"Over the years, we've figured out various ways to do good in the world," says Roberts.
Their donation strategy always starts with research—they believe it's the best way to ensure their philanthropy can make the biggest difference. Both men have run small
foundations. Roberts has established a scholarship program for high school students. Dr. Nathan chairs Partners Asia, a non-profit that supports the work of local organizations and schools in Myanmar and Thailand.
When the two saw the need for COVID-19 research funding, they investigated where their funds could do the most good. After speaking with a friend at the Bill & Melinda Gates Foundation and attending a La Jolla Institute for Immunology (LJI) webinar, presented by Professor Erica Ollmann Saphire, Ph.D., they settled on a plan: they would give to equipment purchases for a new high-containment facility at LJI.
"This was something we could do directly and immediately—something to help right away," says Dr. Nathan.
The new equipment is part of LJI's new Infectious Disease Exploration and Abatement (IDEA) Facility, a biosafety level 3 lab built to contain highly infectious agents. Scientists at LJI need this level of containment to study the virus that causes COVID-19 and work toward better diagnostics and vaccine strategies. Roberts and Dr. Nathan are hopeful this work will also lead to antibody therapeutics for COVID-19, a major goal of the Saphire Lab.
"Neal and Hal had the vision to fund this important equipment at the Institute, which will help both Dr. Saphire and her work—and many infectious disease projects we're working on," says Christopher Lee, Chief Advancement Officer at LJI.
In so many ways, the two old friends have supported projects that will outlast them. Their gifts to LJI could save lives in the pandemic and for years to come.